Posted on September 4th, 2009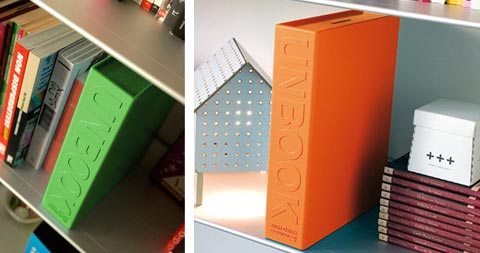 Another take on the unbook: The Unbook is a whimsical, modern take on the classic piggy bank, only for adults. Place it on a bookshelf, at home or in the office, while it discreetly collects enough loose change and turns into a sturdy bookend, holding up the books on either side of it. Made from colorful polyethylene, its cartooned design and lively colors of Green, Orange, Yellow and more, add a touch of humor to the tedious financial world of grownups. Designed by Josh Owen for Casamania.
Now, with the unbookend, unbook enthusiasts can display their fanatical views to the world with a colorful symbolic object, and save money at the same time!
You can buy one here.